CORA courses are now IACET accredited!
August 16, 2018

Posted by:

Bridget Herrin

Category:

News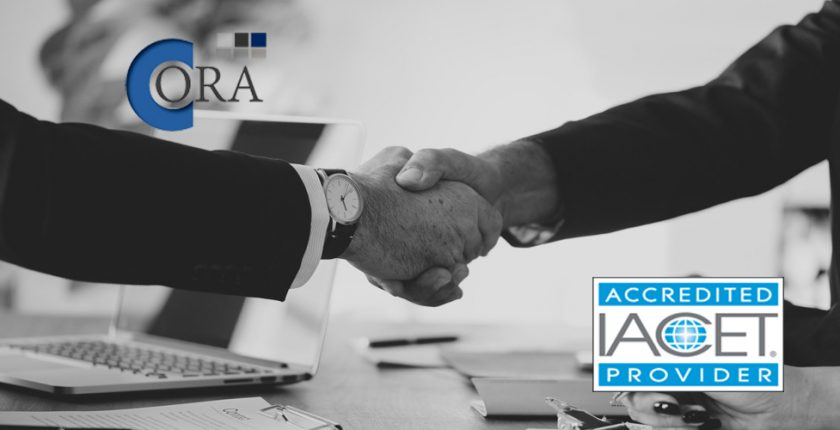 The International Association for Continuing Education and Training (IACET) has awarded accreditation status to all CORA courses. The online training curricula will now offer Continuing Education Units (CEUs) to individuals seeking to acquire or maintain professional licenses and/or certifications.
In order to achieve Authorized Provider accreditation, CORA completed a rigorous application process, including a review by an IACET site visitor, and a demonstration of adherence to the ANSI/IACET  Standard  addressing the design, development, administration, and evaluation of its programs. CORA has pledged its continued compliance with the Standard and is now authorized to issue IACET CEU's.
The Continuing Education Unit (CEU) was created by IACET as a measurement of continuing education. One (1) IACET CEU is equal to ten (10) contact hours of participation in an organized continuing education experience under responsible sponsorship, capable direction, and qualified instruction. Under IACET's care, the IACET CEU has evolved from a quantitative measure to a hallmark of quality training and instruction.
What does this accreditation mean to our students?
For our students, this means CORA learning is committed to providing the highest quality of training and resources. Compliance with the ANSI/IACET Standard certifies that there are policies and procedures in place to ensure our students receive high-quality education. From the hiring of our industry-expert instructors and the material covered in class to our registration and marketing processes, our commitment is to you, our students.
About IACET:
The International Association for Continuing Education and Training (IACET) is a non-profit association dedicated to quality continuing education and training programs. IACET is the only standard-setting organization approved by the American National Standards Institute (ANSI) for continuing education and training. The ANSI/IACET 1-2007 Standard is the core of thousands of educational programs worldwide.
IACET grew out of a National Task Force on continuing education commissioned by the U. S. Bureau of Education (now the Department of Education) in 1968. The ANSI/IACET 1-2007 Standard is based upon in-depth research on the learning process.
For more information, please visit https://www.iacet.org
To view all IACET accredited courses, please visit https://coralearning.org/shop/